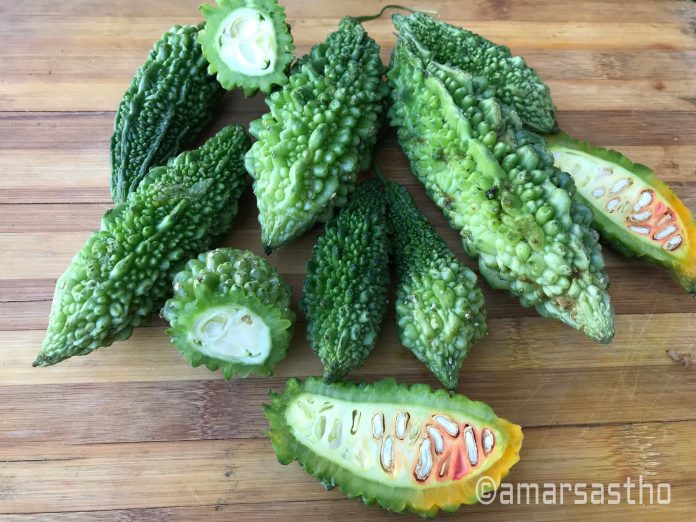 Bitter gourd is a vegetable that is relished for its benefits and hated for its bitter taste. It is an excellent source of vitamins B1, B2, and B3, C, magnesium, folate, zinc, phosphorus, manganese, and has high dietary fiber. It is rich in iron and contains twice the beta-carotene of broccoli, twice the calcium of spinach, and twice the potassium of a banana. Even drinking raw Bitter Gourd juice is full of advantages as it contains essential vitamins as well as antioxidants that all of us need.
One cup (94 grams) of raw bitter Gourd provides:
Calories: 20
Carbs: 4 grams
Fiber: 2 grams
Vitamin C: 93% of the Reference Daily Intake (RDI)
Vitamin A: 44% of the RDI (Reference Daily Intake)
Folate: 17% of the RDI(Reference Daily Intake)
Potassium: 8% of the RDI(Reference Daily Intake)
Zinc: 5% of the RDI(Reference Daily Intake)
Iron: 4% of the RDI(Reference Daily Intake)
Bitter Gourd also contains high Vitamin A, C, Potassium, zinc, iron.
Health Benefits:
Bitter gourd is very good for Diabetics; in fact, it can be considered as medicine of diabetics. It helps in maintaining blood sugar levels. Bitter gourd has a compound that functions similar to insulin. It reduces blood glucose levels in both Type 1 and Type 2 diabetes. Consuming a glass of Bitter Gourd juice is so effective that diabetes patients need to reduce the dosage of their medicines.
The antimicrobial and antioxidant properties present in Bitter Gourd helps in treating skin problems, blood disorders, removing toxins from the blood and purifying it. It also improves blood circulation and helps to cure issues like rashes, acne, psoriasis, blood boils and even hinders the growth of cancerous cells in the body.
Bitter Gourd can Lower the bad cholesterol levels "Bitter gourd juice'' is anti-inflammatory that also helps in lowering the bad cholesterol levels in the body.
Bitter Gourd has anti-cancerous properties in it and could be effective against the stomach, colon, lung, and breast cancer cells. It has anti-carcinogen and anti-tumor properties. It reduced the risk of prostate, breast and cervical cancer.
Bitter Gourd works great for heart health. Bitter gourd reduces LDL (bad cholesterol) and decreases the risk of suffering a heart attack. The fiber also helps to unclog the arteries. It significantly reduces the risk of heart attack and stroke. It also maintains the blood pressure of the body as it is rich in potassium, which absorbs excessive sodium in the body. It is rich in iron and folic acid which are known to decrease the risk of stroke and keep your heart healthy.
Bitter gourd is liver friendly and detoxifies. It boosts the liver enzymes and is a good cure for a hangover as it reduces alcohol deposits on the liver.
Bitter gourd fights viruses and bacteria and strengthens your immunity. It prevents allergies and indigestion. It is full of fiber and helps improve bowel movement. It relieves constipation and settles the stomach.
Bitter gourd is low in calories, fat, and carbohydrates. These properties together help in weight management.