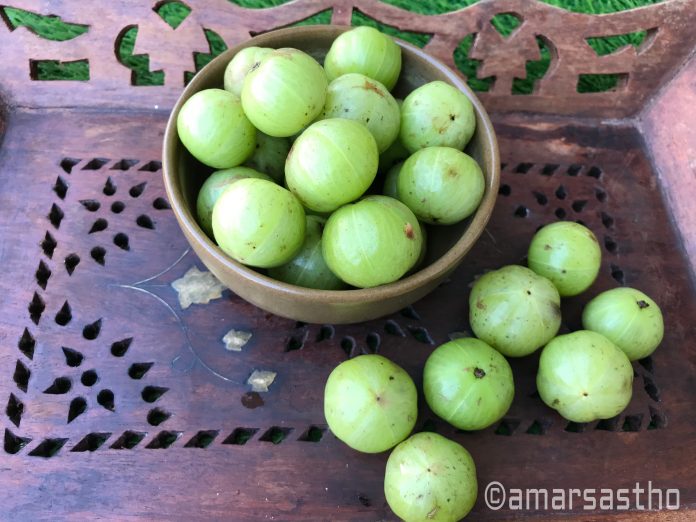 Gooseberries /Amalaki (Amla):
The Amalaki or Indian gooseberry, commonly known as Amla in Asian sub-continent. Amla is undoubtedly a powerhouse of nutrients. Amla literally means "sour'' but Amalaki is a great combination of sourness, bitterness and sweetness. Amalaki is a natural remedy long used in Ayurveda. Amalaki contains a number of substances thought to enhance health, including vitamin C and other antioxidants.
Gooseberries (Amla) are low in calories and high in fiber, which helps protect against obesity, heart disease, type 2 diabetes, and some types of cancer.
1 cup (150 grams) of gooseberries (Amla) contains:
Calories: 66
Protein: 1 gram
Fat: less than 1 gram
Carbs: 15 grams
Fiber: 7 grams
Vitamin C: 46% of the Daily Value (DV)
Vitamin B5: 9% of the DV (Daily Value)
Vitamin B6: 7% of the DV(Daily Value)
Copper: 12% of the DV(Daily Value)
Manganese: 9% of the DV(Daily Value)
Potassium: 6% of the DV(Daily Value)
Health Benefits:
Amla is rich in antioxidants that help in fighting free radicals in the body. This reduces cell damage and also the risk of cancer and inflammation. Few Studies have been show that Amalaki has a number of properties that may be beneficial in the treatment and prevention of cancer. Amalaki reduces the risk of breast cancer.
Amla is used in the herbal treatment of Atherosclerosis, Diabetes, Diarrhea, High blood pressure, High cholesterol, joint pain, Obesity.
Amalaki may help protect against diabetic complications. Amla powder is good for diabetics. Amla contains chromium which makes the body more responsive to insulin and regulates the blood glucose levels.
One of the great benefits of Amla is that it is considered as the first and foremost food for anti-aging. Consuming Amalaki on a daily basis is the secret behind the slow aging process and beautiful skin.
Amla reduces the acid level in the stomach and fights inflammation.
It also improves your immunity so that you can fight infections easily.
Few studies have found that Amalaki may help prevent the development and progression of high blood pressure.
Gooseberries (Amla) are rich in citric acid, phenols, and antioxidants. These can reduce the risk of age-related brain diseases, such as Alzheimer's and stroke.
Gooseberries (Amla) contain heart-healthy antioxidants, polyphenols, and potassium. Which can keep your heart working properly and may reduce your risk of heart disease.